'Prey for the Gods' Stands out from 'Shadow of the Colossus'
It wears its influence proudly, but this indie project might well prove worthy of standing on the shoulders of a giant. We talk to one of its makers.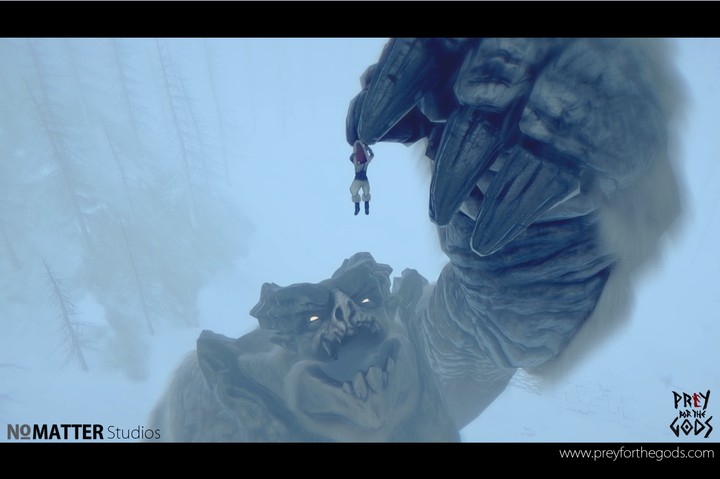 Above: 'Prey for the Gods' screenshot courtesy of No Matter Studios
"We aren't saying that every snowflake that falls could change how the game ends. But there are decisions to make in the game that will offer pros and cons. You're dealing with harsh conditions, and impossible odds: so do you burn your arrows for heat, or save them? We're not forcing anyone to play a specific way, and that will create wildly different playthroughs."
Brian Parnell, director on Prey for the Gods, is feeling pretty positive right now. Since its reveal in October 2015, and subsequent success on Kickstarter—over $500,000 raised—the three-person team at San Fancisco's No Matter Studios has been slowly teasing new footage and information from their debut game. A second trailer was published in the summer of 2016; but still, updates on what is undeniably a much-anticipated indie title for 2017 are thin on the ground.
This is why it's a treat to speak to Brian directly, to learn a little more about the game that immediately had outlets like Rock, Paper, Shotgun, PCGamesN and VICE (hello) drawing inevitable parallels with a certain Shadow of the Colossus.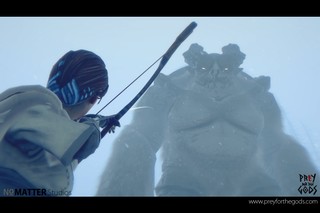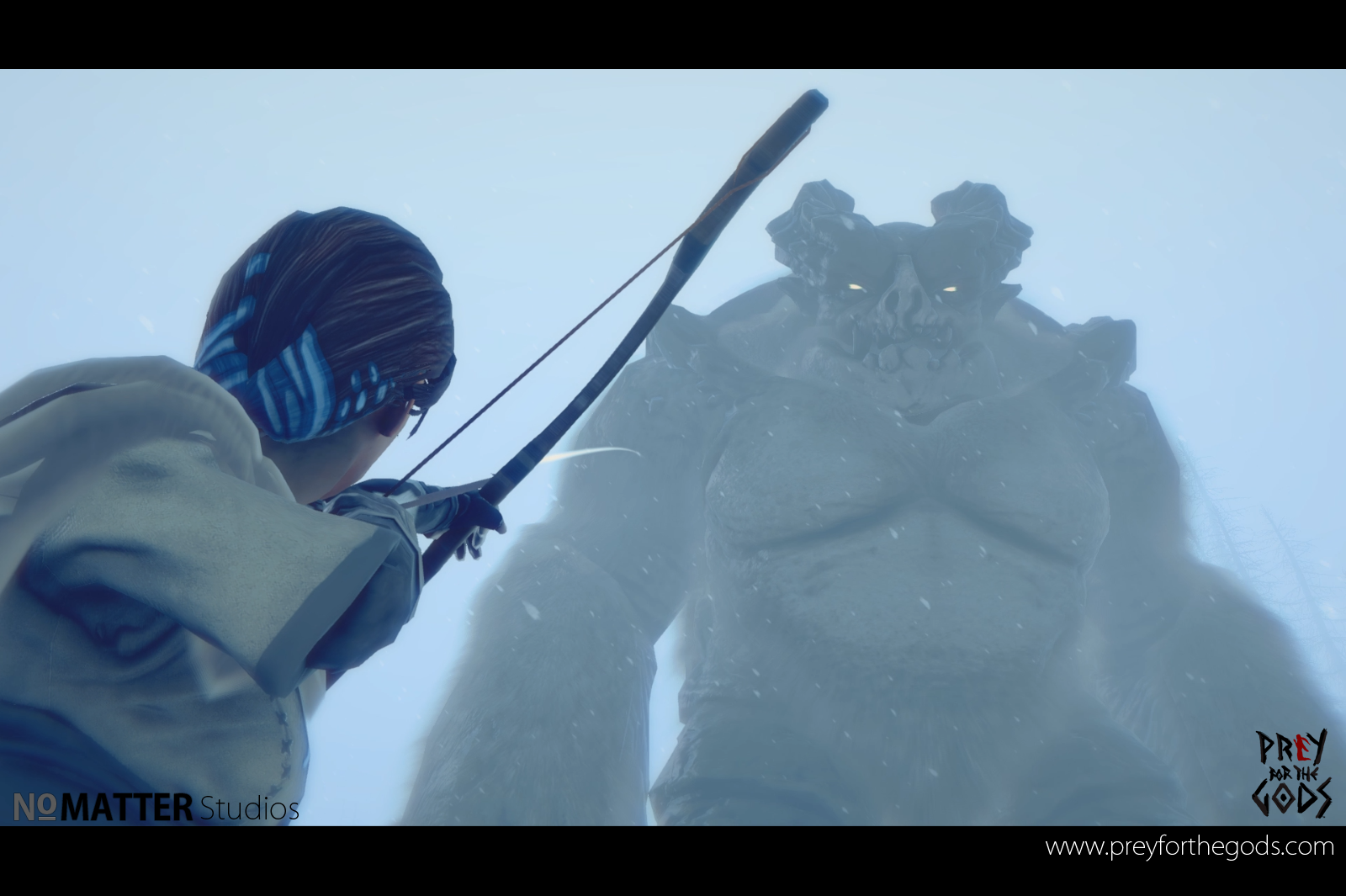 The game's story will be "much different" than Team Ico's enduring PS2 title, says Parnell, adding: "We feel with non-linear gameplay, dynamic weather, a day and night cycle, and survival mechanics you'll have crafted your own unique experience to share. The journey our players will take is really engrossing."

Which isn't to say Shadow of the Colossus fails to envelop the player in its world, but it's a product of another gaming age entirely, crafted using outdated tools by today's standards. Prey for the Gods looks stunning, even in the far-from-finished forms it has been showcased in, so far.

Parnell was tight-lipped on who or what the Gods of the game's name are. They're huge and certifiably colossus-like, that much is for sure.
Above: 'Prey for the Gods', official trailer #2
"We want people to play the game with an open mind. If we start telling people what to think or feel, then the ideas we're trying to communicate could be lost. Without a heavy narrative we want the player to explore the game's island setting, and come to their own conclusions. I think there's something really interesting about that."
"There's a number of different ways to look at the title, to be honest," he teases. "With 'for', assuming you're saying 'pray', there is a sense of pity. With 'to' it infers you are in need."
Related, on Waypoint: Discussing 'The Last Guardian' with Director Fumito Ueda
It feels, at the very beginning of its release year, like a tougher proposition than SotC on paper. Its sole protagonist will have to fight the elements and constantly keep her stamina replenished, in addition to overcoming the titular Gods, ghostly wraiths and less-monstrous threats of the island. She'll have to pause, rest, recuperate; or else burn through her energy and become easy pickings for hungry beasts. She'll have to take more than one leap of faith during her journey—just as No Matter have in getting this far with their ambitious project.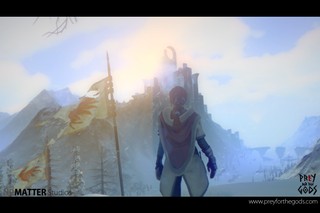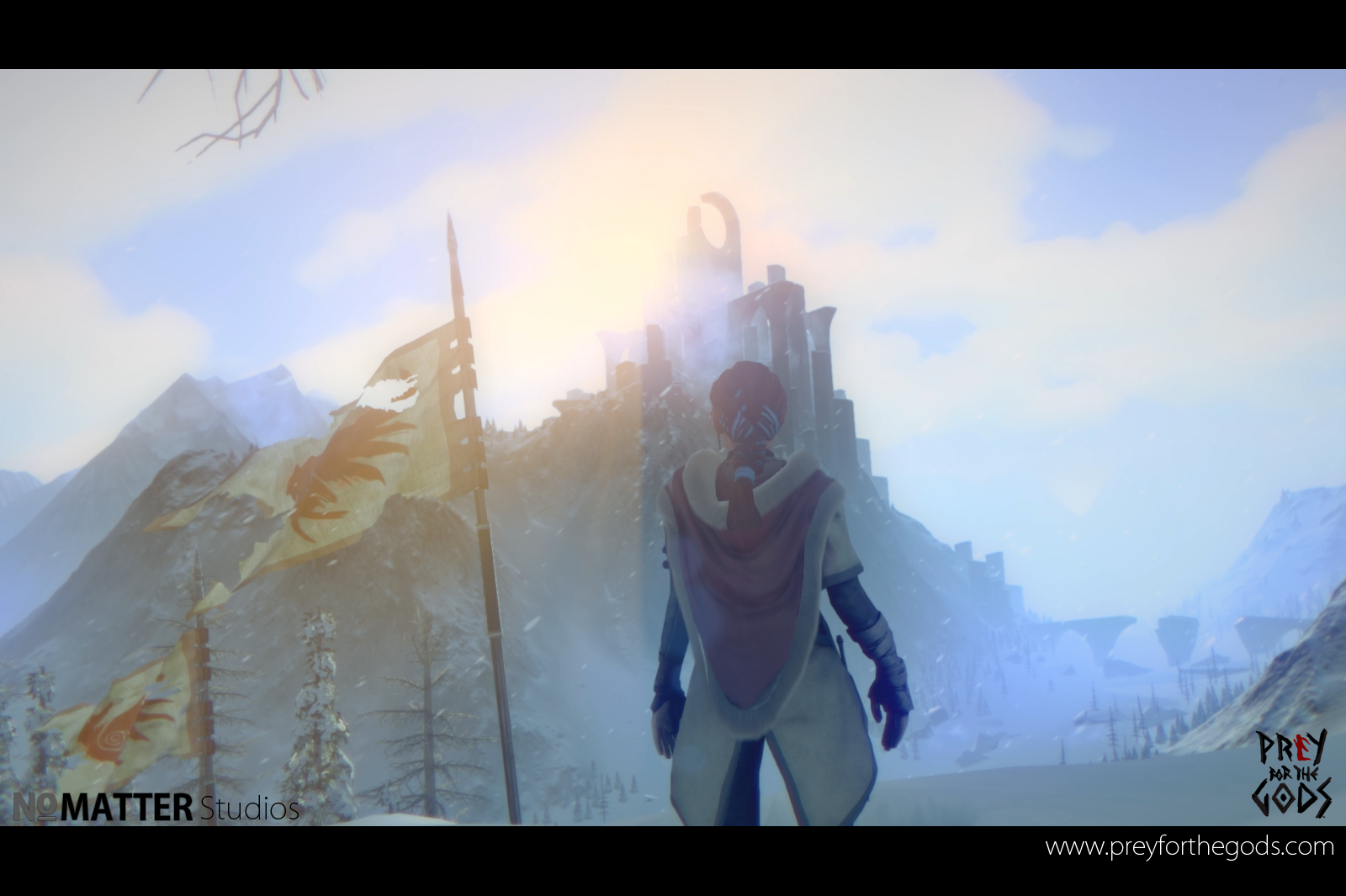 Prey for the Gods marks a substantial change of direction for its makers. Parnell has two colleagues at No Matter: Hung-Chien Liao and Tim Wiese, and all three have embarked on this new journey together after years making mobile games.

"It's not like those weren't fun," Parnell explains, "but we were just unhappy that we were no longer making games that got us into the industry in the first place." While "spending days trying to make a 'call to action' button look awesome to maximize $1.99 conversion", the trio filled their nights sketching out ideas for what would become Prey for the Gods.
And now, with half a million dollars raised through Kickstarter, and pre-order revenue coming in via the game's official website, the trio can focus more fully on finishing Prey for the Gods for its proposed December 2017 release (for PC, with console versions following in 2018). "We're still in shock," Parnell says, "and we can't thank the backers enough."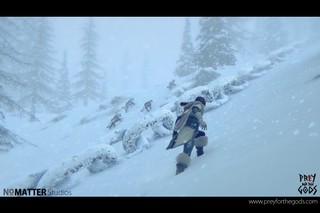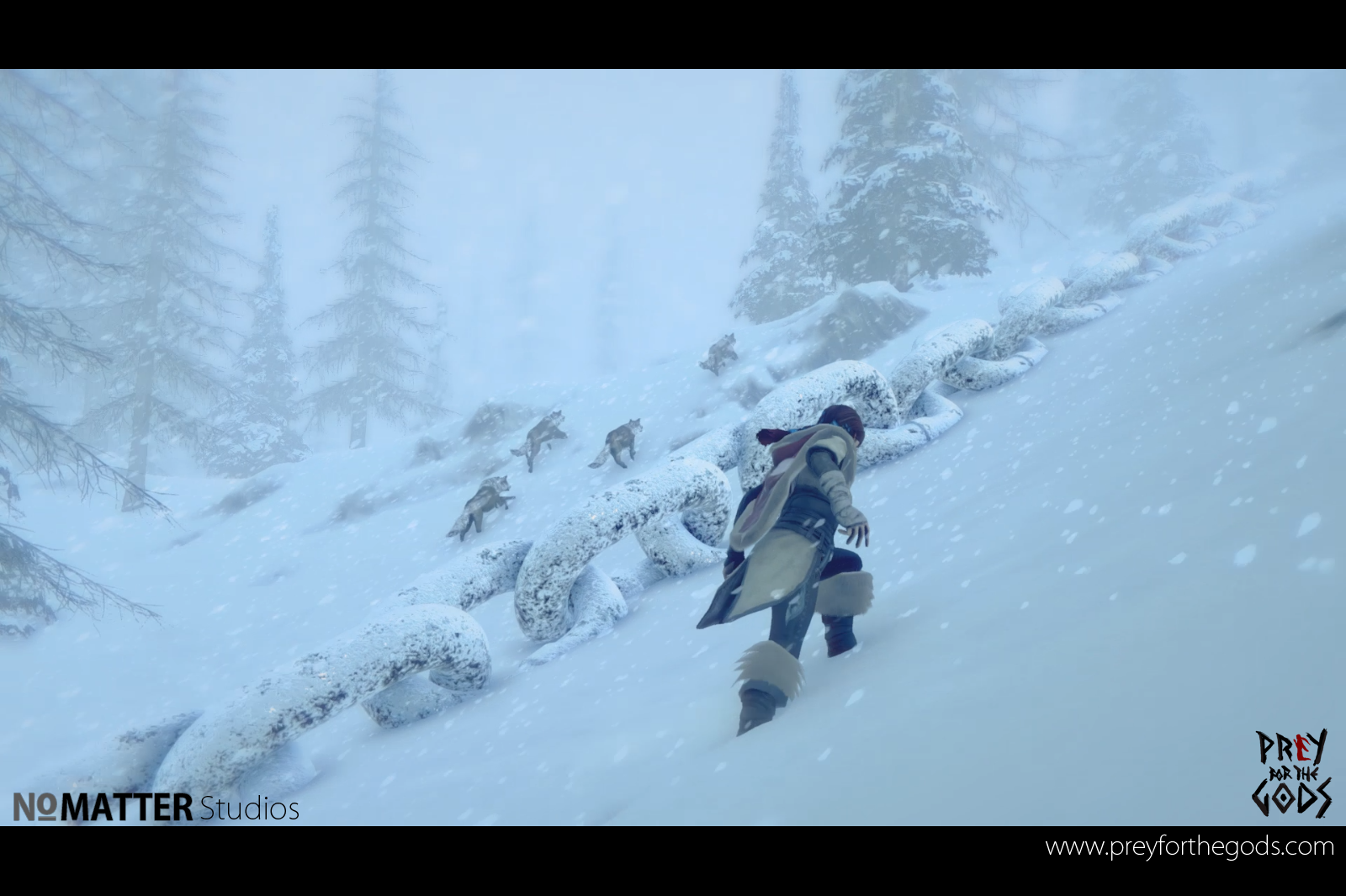 The Shadow of the Colossus comparisons will always be there, though the No Matter team long ago accepted them, as is only natural when it's such an influence on their game. (And they've received a seal of approval from Takeshi Asano, level designer on SotC.) But it's vital that Prey for the Gods is capable of standing apart from its predecessor—carried on the shoulders of a giant, perhaps, but living proudly outside of its shadow.

"We really like how the game feels, this early," Parnell says. "We put you onto an island without telling you where to go or what you should do. The rest is up to you. I think that really starts you thinking, and asking questions as a player."
Questions like: what awaits me on the other side of that snowdrift? Do I loose this final arrow now, standing my ground, or make a run for cover? Can a game like this, when such a small team is making it, prove to be a spiritual successor of one of video gaming's most-loved adventures? We've most of a year to wait before that final, big question can be answered, but here's hoping that No Matter realize an experience that we can all appreciate on its own, distinct terms.