The Beautiful Brutality of the Deeply Underrated 'Flywrench'
Most people missed out on 'Flywrench' in 2015, but a new PlayStation 4 version is a chance to discover a gem.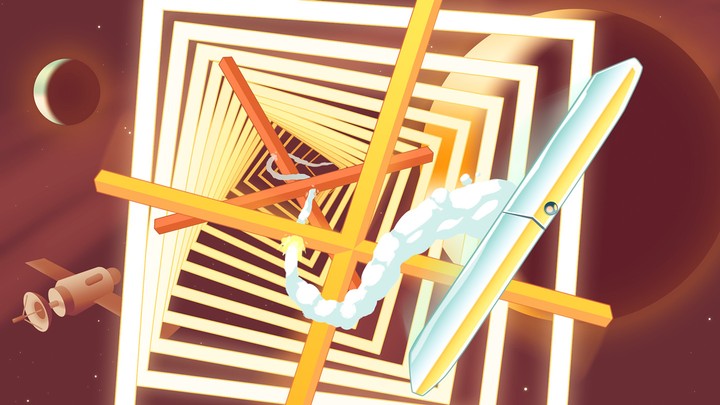 Ever have a moment where you're reminded about something you used to love, yet somehow completely forgot about it, forcing you to spend the next few minutes wrestling with the guilt of those lost feelings? That happened to me last week, when an email crossed my inbox announcing a PlayStation 4 version of the absurdly good action game Flywrench. I haven't thought about Flywrench since I wrote about it for Kotaku in 2015, but lord, Flywrench is a very good game.
The premise of Flywrench is simple, with players guiding a tiny ship from one side of a maze to another. Getting there, however, is no joke, requiring a deft touch, intense concentration, and loads of patience, since you're surely going to die— a lot. If you're the type of person who reveled in the masochism of Super Meat Boy or only truly felt alive while flailing in N++ , Flywrench is up your alley.
Flywrench has been kicking around in some form another for a while. We're talking all the way back in 2007, when it was little more than an experimental demo released by designer Mark "Messhof" Essen, known these days for Nidhogg. So far as I can tell, that version has been erased from the web, but if you find a link, shoot me a note and I'll add it. You'll have to settle for gameplay footage:

Raising money via Kickstarter or other crowdfunding sources is normal enough 2017 for people to be deeply cynical about, but it was genuinely new and weird when Essen turned to Kickstarter for $5,000 back in 2010. "I'm working on this full time so some of the funding will go to living expenses, the rest will be for paying programmers when I need them," he wrote in his pitch.

The game wasn't released for another five years, but it was worth the long wait, if only so Essen could make sure it sported a truly banging gaming soundtrack.
If you find yourself digging Flywrench, consider exploring the rest of Messen's extensive catalog. It's tough to track download links for a lot of his weirder stuff, but it's worth poking around. Though Flywrench is a little eccentric, it's nothing compared to, um, Poocuzzi. In Poocuzzi, four players attempt to take a dump in a jacuzzi without getting caught. Thing is, you'll also lose if you don't try to squeeze one off, so it becomes a race to mysteriously share a number two.

Flywrench is out on PS4 today, but it's also on PCs and Macs via Steam. Get on it. On Valentine's Day, love your fingers by punishing them with a really hard game.
Follow Patrick on Twitter. If you have a tip or a story idea, drop him an email here.