'Cosmic Express' Is The Perfect, Puzzling Bedtime Story
The new chill puzzler from the creators of 'A Good Snowman is Hard to Build' is difficult, sweet, and rewarding.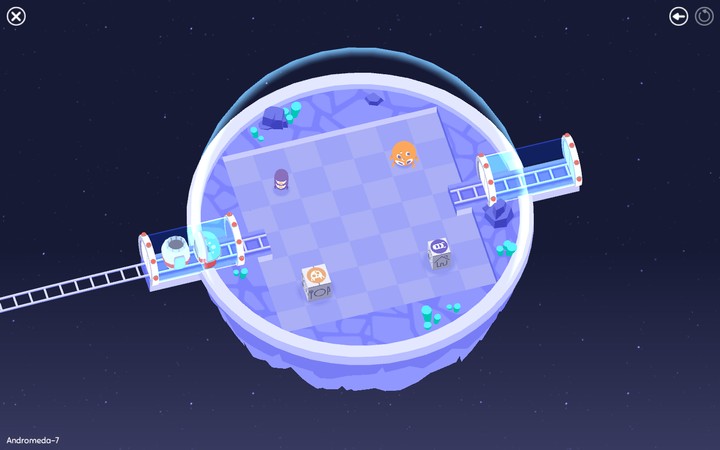 If The Witness were a lot more like Cosmic Express, I would've liked it a hell of a lot better.
In both of these games, you are essentially tracing lines on a board, making paths based on symbols. Though here, instead of doing what feels like bad geometry, you are instead matching cute aliens to tiny boxes in a linear fashion, finding the perfect route through a chibi alien "town" that builds around you as you work.
It's very chill, with an ambient soundtrack by Maize. It has a sweet, pastel aliens making cute homes and businesses. Best of all, it can be fiendishly difficult but it never laughs at you, encouraging you, through its friendly aesthetic, to keep going, keep testing until you find the optimal route through the level.
The game comes from the "cosmic engineers" who previously made other tough, chill, brilliantly designed puzzlers like A Good Snowman is Hard to Build and Sokobond: Alan, Benjamin, Tyu, Nick & Maize. It shows: the previous games were brilliant meditations on different puzzle forms, mixing elements and order of operations on small-scale puzzle boards, so Cosmic Express' extra little rush of animation and speed (once you set it all in motion) feels like a pleasant evolution.
It is the perfect bedtime game for a player like me, who enjoys a good brain teaser based on careful placement and a pleasant little rush when you find your "aha!" moment. I can curl up with Cosmic Express after a long day, and focus entirely on the purples and blues of the board, letting my cares and anxieties melt away as I find the best little train tracks for my sherbet-colored friends. Bless this game.
Cosmic Express is available now on PC, MAC, Linux, iOS and Android.